Rather than deleting old requests, you can archive them to organize your inbox. That way you'll never lose a conversation or history with a client.
Here's how to archive a request:
1. Navigate to your Inbox by selecting the envelope icon.

2. Under pending requests, locate the request you'd like to archive.

3. Select Archive.

4. Select a reason from the drop-down menu for why you were unable to book with this client.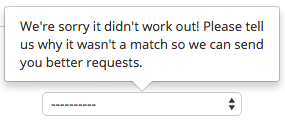 5. The request will then be moved to the archived requests tab for you. You can undo this action by selecting Undo.