Booking with an owner
Pet owners will select the Contact button on your profile to initiate a booking request. Once the pet parent has submitted their request, here's what to do next to book the stay:
1. When a pet parent sends you a request, it'll show in the Pending Requests section of your Inbox. Respond as quickly as you can--requests that are responded to quickly are more likely to book.

2. After selecting the pending request you'd like to book, review the details of the booking in the gray box to make sure the request is a good fit for you. You can see more details about the dog by clicking on the Dog Profile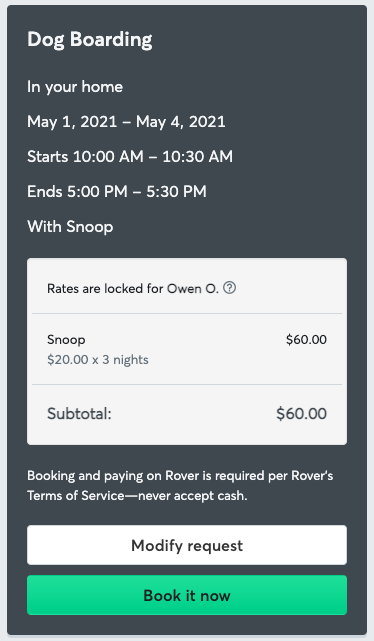 3. Before booking, make sure to have a Meet & Greet—this is a great opportunity to get to know the pet parent and dog and ask questions that weren't covered in the request.


To learn more about how to schedule a Meet & Greet check out this article.


4. When you and your client are ready to book, either one of you can select Book It Now.

5. After the Book It Now button has been selected the other party has 72 hours to accept the request. After 72 hours, the request expires. It's easy to renew the request though—check out this article to learn how.
Once a request is booked, it automatically moves to the Upcoming Stays section of your inbox.
If the booking isn't a good fit, let the owner know via Rover Messages, then archive the request. If you don't archive the request, you may not show in search for those dates since you still have a pending request. You can learn more about archiving requests here.
Rebooking with a past client
Navigate to your Inbox by selecting the envelope icon.

2. Select the View past customers link.

3. Locate the client you'd like to book with and select Book A New Stay.
Pro tip: you can use the search box to filter your bookings by the owner's or dog's name.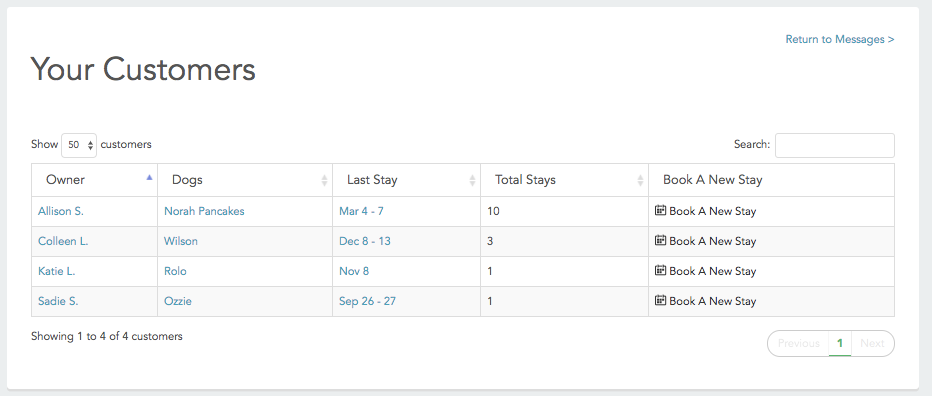 4. Enter the service details and include a message to your client. Then select Create stay request to send the request to your client.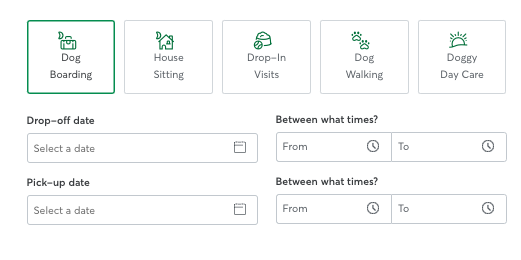 5. View your request in the Pending Requests tab. If everything looks good, select Book It Now to finalize the booking.
Need to make a change to the request? Visit this article for more information.