We hope it never happens on your watch, but should an emergency arise—such as an injured, sick, or lost dog—call Rover's Trust & Safety team at 888-727-1140 to report it immediately so we can help resolve it as quickly as possible.
Tip: Whether you're a pet parent or a sitter, you can help prevent some situations from becoming emergencies by having on hand the most up-to-date records of your dog's or your client's dog's medical history, immunizations, diet, and special needs. Your Meet & Greet before the booking is a good time to discuss this information.
Rover offers the following services in case of emergency:
• 24/7 Emergency Support: Rover's Trust & Safety team is standing by around the clock to help you if an emergency arises. Phone us the moment you need us, at 888-727-1140.
• Ask A Vet: If the situation is neither time-critical nor life-threatening, use Rover's Ask A Vet service 24/7 to ask questions of a licensed veterinarian. Because this system is email-based, you can expect a response within one to two hours. You'll find the Ask A Vet button in the gray box on your conversation screen during the booking.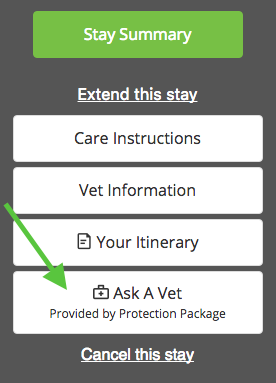 • Premium Insurance: Rest assured, every stay is covered by premium insurance so sitters, pet parents, and dogs are always protected. Learn about Premium Insurance coverage.
• Sitter Resources: Discover posts covering how to prevent dog escapes, read dog body language, and much more here.