If you'd like to set rates for add-on services during a booked stay, you can use the Additional Services feature. Depending on the client's needs, you can apply the following service rates to the cost of a booking:
Holiday Rate

: Nightly rate for bookings during holidays.

Additional Dog Rate

: Each additional dog from the same client.

Extended Stay Rate

: Nightly rate per dog for longer bookings.

Puppy Care

: For puppies under 1 year old.

Bathing and Grooming
Pick-up and Drop-off
Cat Care
For sitters who offer cat care: Make sure you specify that you accept cat care requests for each of your services by checking the box in the Pet Preferences section of your account.
Including add-on services
To add these additional services to your profile, simply set a rate for each one you want to offer. Here's how:
1. Sign in to your Rover account, then click here to get to the rates management page.
2. Under each of your services, select the Additional Rates icon, which will show you the different types of additional rates you can manage.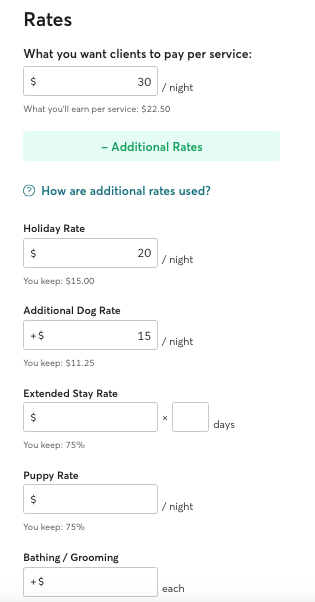 3. Set your rates for the additional services you want to offer. For services you don't want to offer, leave the rate box blank.
Note: You can offer bathing and grooming services for free if you'd like. Just check the Offer for free box below it.
4. Scroll down and select Save. You're all set!
You can remove an additional service from your profile at any time by deleting the rate next to it. After making these changes, select Save at the bottom.
Pet owners can view the cost of your standard rates and add-on services from your profile. To see a breakdown of your additional rates, clients can select Additional Services & Rates at the bottom.