Finding the perfect pet sitter or dog walker near you is easy with Rover:
1. Go to Rover.com and select the Search Sitters button.

2. Enter your zip code, postal code, or address at the top of the page. Select the magnifying glass icon.


3. Browse sitters and dog walkers in your area. You can narrow your search by selecting a service you're interested in, the dates you're looking to book, your price range, and more.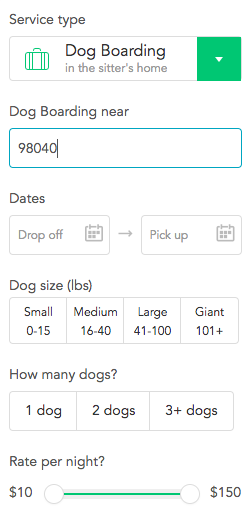 4. To get even more specific about what you're looking for, apply a filter.


5. Scroll down and select a sitter profile that seems like a good match to learn more about them. If you'd like to start a conversation with them, select the Contact button next to their profile.
6. Ask the sitter or dog walker to schedule a Meet & Greet. That's your chance to get to know them in person and make sure they're the right fit for you and your dog. Take a look at our Meet & Greet Checklist for Dog Owners.
7. After a successful Meet & Greet, either you or the sitter can select Book It Now from your conversation on Rover. Once both you and the sitter or dog walker have accepted, the service is booked.
Additional information
We recommend contacting two to three sitters or dog walkers when beginning your search. That way you'll have lots of options when you're ready to book your first service.


If you're requesting care for multiple pets, then each of your pets must have a completed profile and be added to the booking. Learn how to add a pet profile to your account.



T

o protect your privacy, we don't display your personal contact information until a service is booked. However, if you request your sitter to pick up and drop off your pet at the beginning and end of a stay, then your home address will be viewable to the sitter in the pending request.


All Rover services must be paid for on Rover. This is outlined in our Terms of Service. Booking on Rover also gives you 24/7 support, the Rover Guarantee, and a secure, convenient way to pay.