Finding the perfect pet sitter or dog walker near you is easy with Rover:
1. Go to Rover.com and select the Search Sitters button.

2. Enter your zip code, postal code, or address at the top of the page. Select the magnifying glass icon.


3. Browse sitters and dog walkers in your area. You can narrow your search by selecting a service you're interested in, the dates you're looking to book, your price range, and more.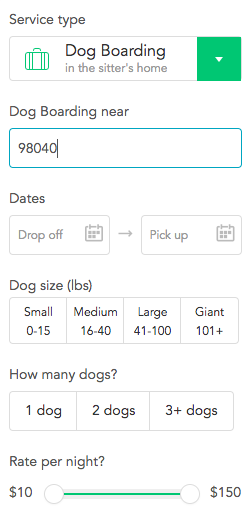 4. To get even more specific about what you're looking for, apply a filter. 


5. Scroll down and select a sitter profile that seems like a good match to learn more about them.
Tip: In search and on a sitter's profile page you'll see badges that'll tell you if they've completed a background check and Rover 101.
6. Read reviews, browse photos, and when you've found someone great for your dog, select the Contact button on their profile to start a conversation.

We recommend contacting two to three sitters or dog walkers when beginning your search. That way you'll have lots of options when you're ready to book your first service.