We get it: Sometimes plans change and you may need to modify your booking after it's already been booked. No problem! If you're needing to change dates or add* or remove a pet from a booking, simply message your sitter to request the changes.
If your sitter can accommodate the changes, they'll need to update the booking request first. Then, you'll just need to confirm the changes within 72 hours to finalize the booking. Here's how to confirm the request on a computer or mobile browser:
1. Navigate to your Inbox by selecting the envelope icon.

2. Select the Upcoming Stays tab and then select the request you want to modify.

3. Message your sitter to update the booking request. You'll be notified via email once the booking's updated and will have 72 hours to confirm the modification.
4. To confirm the modification, locate the gray box that lists your service details. Review updates.
If the modification leads to an increase in cost you'll be prompted to

Accept modifications and pay.

Your default payment method will be charged just the "due now" amount.

If the modification will result in a refund or no change in price, simply select

Accept modifications

to confirm updates. Funds will be returned to your original form of payment within 1-3 business days. Any promo or gift card funds will be available to use immediately.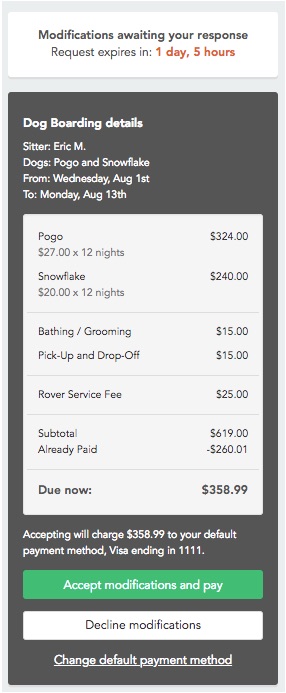 If the modification request is different than what you discussed with your sitter, message your sitter for details first. If the request needs to be declined, simply select Decline modifications.
*Note: If you need to add a pet to a booking you'll need to create a pet profile for the pet first. Review this article to learn how.
FAQ
Can I accept a modification request using the Rover app?
You can accept a modification request on the iOS app. Here's how:
Tap

Inbox

at the bottom of your screen.

Tap the request that's being modified.

Tap

Details

, then tap

See requested changes

to review the modification request.  

Navigate back to your conversation with the sitter and tap

Accept

to confirm the request.

 
On Android devices, you can confirm a modification request by accessing Rover on a mobile browser, such as Google Chrome.
What happens if I don't accept the modification request within 72 hours?
The modification request will expire if it isn't accepted within 72 hours. Don't worry--if the booking still needs to be modified and the stay dates haven't passed yet, your sitter can initiate a new modification request for you to confirm.
Does declining the modifications cancel the booking?
No, your service will remain booked. The proposed modifications will not be implemented.