So you've found the perfect sitter or dog walker, contacted them, and had a Meet & Greet—sounds like you're ready to book. To book a service, simply:
1. Navigate to your Inbox by selecting the envelope icon in the upper right corner of your screen.

2. Locate the conversation with the sitter you want to book with under pending requests. To book the request, select the Book Now button.

3. Navigate to the gray box on the left to ensure the dates, the number of pets, and the price details are correct. Select Book It Now, or if your sitter has already accepted the request on their end, select Accept Request.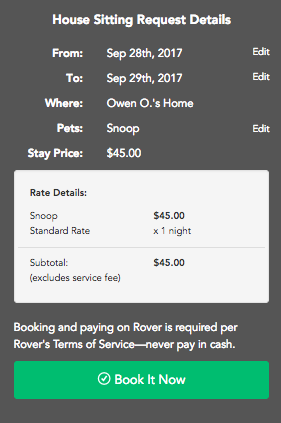 4. Enter/review your payment for the booking. If you have a coupon or promo code, enter it in the promo code box and select Redeem.
5. Once the sitter accepts your request, the service has been booked. You'll receive an email confirmation and the stay will appear in the Upcoming Stays tab of your account.
Important:
Booking and paying through Rover is required per our

Terms of Service

.

Never pay your sitter or dog walker by cash or check—this can expose you to fraud and makes your bookings ineligible for the Rover Guarantee

and 24/7 support. 
If you need to make additional changes after already confirming the booking, please contact your sitter directly so they can agree on and make the necessary changes from their end.
Related Articles
How do I modify a booked service?