Note: If your sitter is the person who requested to cancel the booking, then they'll need to initiate the cancellation from their account. Please contact them via Rover Messages. 
We get it—sometimes plans change and you may need to cancel a booked service. You can do this all from your Rover account. 
Canceling from the app? Follow these steps here. 
To cancel a booking from your computer:
1. Navigate to your Inbox by selecting the envelope icon.

2. Select the Upcoming Stays tab and then choose the request you want to cancel.

3. Once the request is open, locate the gray box that lists your service details. Select Cancel booking.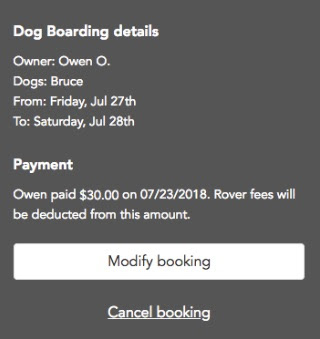 4. Select a cancellation reason from the dropdown menu and include details about why you're canceling. Confirm your changes to complete the cancellation request.
If your cancellation includes a full or partial refund, you can expect to receive the refunded amount within 1 - 3 business days from the date of the cancellation request. Refunds will be issued back to the original form of payment.
A note about refunds: Refunds will vary based on your sitter's cancellation policy and when you cancel.
Related Articles
Will I receive a refund if I cancel a booking?