One alternative to in-person Meet & Greets is scheduling a video call. This way, you can have face-to-face interactions to discuss the needs of a pending request.
Note: Currently, the video calls are not available in California, Canada or the EU.
Here's what you need to know about Rover's video call tool:
At this time, video calls are only available on the Rover app for iOS devices.
You can only make a video call for Pending Requests. Once you confirm a request, the video call option will no longer be available.
Both owners and sitters can initiate a video call.
You can make a video call for a pending request at any time, but it's best to schedule a time that works with you and your client's schedule. You can discuss a time via Rover Messages.
To start a video call:
1. Open the Rover app and navigate to your pending request. In Rover Messages, tap the Call option.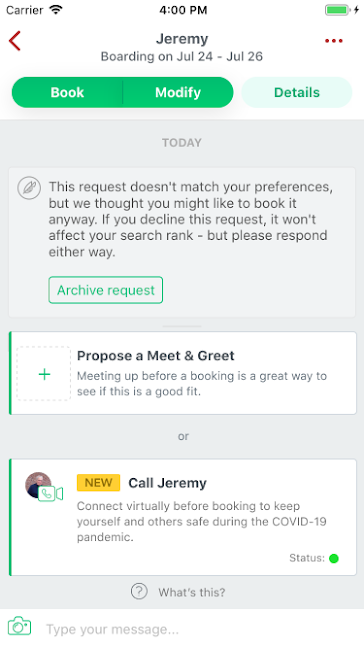 2. Tap Video Call.
3. Tap OK to give the Rover app access to your camera. This is required to use the video call tool.
4. The app will display the name of the person you're calling. To end the video call, tap Cancel call below.
5. Once your client answers, they'll be displayed on the larger screen. Use the different camera icons on the left to customize your display preferences. You can also turn off your microphone while the other person is speaking to reduce background noise. To use this feature, tap the gray microphone icon.
6. Once the video call ends, you'll be redirected to the conversation thread in Rover Messages. You can make as many video calls as you like with someone, as long as the request is pending. Once you confirm the request, you'll no longer see the option to initiate a video call.
.