Your sitter profile will automatically show photos you've sent to clients. This is a great way to show potential clients the diversity of dogs you care for and how much fun they're having with you. You can choose to hide individual stay photos so that the photos are just visible to you and your client, or hide photos from all stays.
1. Navigate to your inbox by selecting the envelope icon in the upper right corner of your screen.

2. Locate the booking containing the photo you want to remove.
3. On the left side of the page under Information about this booking, select the pet's profile.
4. Select the photo you'd like to hide, and then select Hide Photo.
1. Navigate to your settings by selecting your name and then Settings.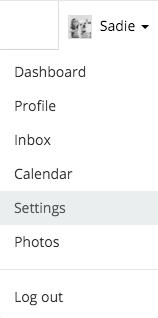 2. Select the Sitter tab.

3. Next to Hide Photos, toggle the circle white or green to edit this setting. Green means you'd like to keep stay photos hidden; white means you'd like stay photos to be publicly visible on your profile.

4. Select Save Settings. You're all set!