Keeping your calendar up to date is an important part of managing your business on Rover. In this article, we'll talk about how to use Rover's calendar feature to manage your availability for specific dates and services.
Pro tip: You can sync your calendar to Google calendar or iCal!  To do this, select Sync your calendar below your service availability.
Rover app
Your calendar view in the Rover app will show different colors and textures depending on bookings and availability. Here's how to read the calendar:

White: Fully available (with 0 bookings)
Yellow: Partially booked
Red: Fully booked
Grey, diagonal slashes: Unavailable
To edit your availability from the Rover app:
Tap

Calendar

.

To edit a specific day, tap the date you need to update then select Edit my availability. From here, you can edit capacity and availability.

To edit availability for multiple consecutive days, tap the start and end date, then select mark the dates as available or unavailable.  

When you're finished editing your availability, select

Save changes.
Note: You can only edit capacity for one day at a time.
Computer
1. Sign in to your Rover account and select Calendar from the dropdown menu under your name.
2. Select the days you want to edit on your calendar. To manage availability for multiple dates at once, click and drag your mouse to select a date range. Select Mark all services as unavailable.
If you plan to be unavailable for a temporary length of time, you can also set yourself as Away for each service. To learn more, check out this article. 
Set fixed availability by service
If you only want to offer specific services on certain days, you can also manage this in the Calendar section of your account.
Rover app
Tap

Calendar

.

In the upper right corner of the screen, tap the gear icon (iOS). For Android, tap the three-dotted icon, then

Settings.

For the service you would like to update, tap

Daily availability

.

Tap the usual days and times that you'll be available.
Computer
In your Calendar, on the left side of your screen, select the arrow next to a service and check the boxes next to the days you're available.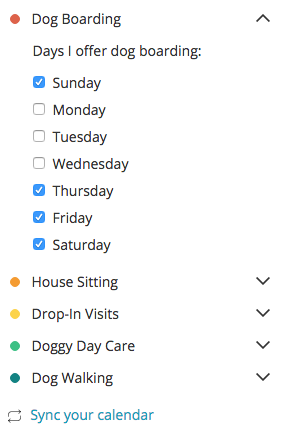 Note: If you frequently don't book requests you receive for days you're available, some of your services may be automatically set to Away mode. This is why it's important to keep your calendar up to date. To learn more about keeping your profile and services active, visit this article from the Rover Blog.
Related articles 
How do I set my status to away?
Can I change my settings to sit for repeat clients only?
How do I manage my pet preferences and the number of dogs I can sit?