Rover is not a tax advisor and cannot provide advice about taxes, income reporting, or unemployment.
Whether a resident of the United States or Canada, you are responsible for complying with all applicable laws related to reporting income. We encourage you to consult with a tax advisor to better understand your requirements.
In this article, we'll go over:
What if I redeem my earnings through PayPal?
If you redeem your earnings through PayPal, then PayPal will handle your tax documentation in accordance with its own tax reporting practices. For more information, see the PayPal article How does PayPal report my sales to the IRS? Will I receive a 1099 tax statement? 
What if I redeem my earnings via check?
If you are a U.S. taxpayer and redeem earnings via check, as you approach $600 in distributions that Rover has paid to you (redemptions), Rover will require you to complete a Form W-9 for your dog-sitting service. This allows you to submit your taxpayer identification information (i.e. social security number or tax identification number). Even if you fall below the federal guidelines for filing income taxes, Rover is still required to collect a Form W-9 and report any distributions to you through Form 1099.
This request can come at any time during the year depending on your monetary distribution, and will be sent electronically via Docusign. If you would prefer a paper copy, please email 1099@rover.com.
For year-end, you will receive Form 1099 from Rover detailing your distributions for the year. It is vital that we receive the completed W-9 by January 10th. All 1099s will be sent via email on February 1st.
For more information, see the IRS website about independent contractors and 1099/W9 information.
If you have questions about receiving or submitting a Form W-9, please contact Rover Customer Support. For questions about taxes, income reporting, or your contractor status, please contact your tax advisor.
How can I check how much I've earned on Rover and/or DogVacay?
You can see just how much you've earned and withdrawn by year right from your Rover account. Here's how:
1. Navigate to your dashboard by selecting your name in the upper right corner of your screen. Select Dashboard.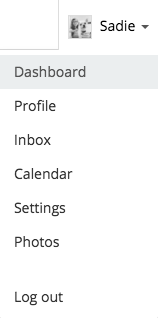 2. Under Rover Balance, select View Payments & Promo Codes.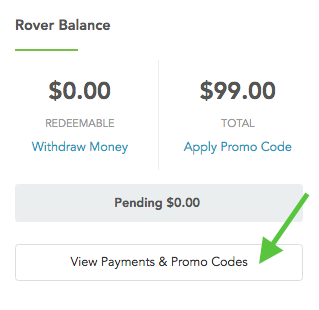 3. Under Rover Balance on the right, you'll see your Withdrawal History by Year and External Withdrawal History.  If you were previously a DogVacay sitter, this External Withdrawal History section would reflect payments you received from DogVacay.